I'm a picker. I love to scavenge through flea markets, estate sales, and yes, even other people's trash, looking for cast-off treasures. I come by it quite naturally via my Irish nana who never passed by a thrift store without first stopping in to peruse the bins, shelves, and dusty corners looking for items that deserved a second chance. I recently did my nana proud when I found this gem tucked away in a pile of forgotten photographs for sale at the annual Luckett's Spring Market:
Added bonus: this photo is from the estate of Joseph E. Noel, who I believe worked as a Hollywood photographer in the 40s and 50s–though this is still being researched.
Can you believe I picked up this treasure for a mere $5? It isn't often that I'm lucky enough to combine my love of picking with one of my favorite gals of all time.
Mae West, born Mary Jane "Mae" West in August 1893, was an American actress who could turn a phrase into something memorable with just the right move of her hips. She retains a coveted place on my all-time dream team cocktail party guest list. Throughout her career she wore the moniker of sex symbol as a badge of honor, always with a bit of class and a touch of naughty double entendre.
What many people don't know about Mae West is that she was also a brilliant writer who was WAY ahead of her time. Her first starring role on Broadway was in a 1926 play she entitled Sex (yep, I'm not making this up!), which she wrote, produced, and directed. It only played for one week before the entire cast was arrested on morals charges. Mae was sentenced to ten days in jail for her "corruption of youth." It's reported that she dined each night with the warden and his wife and she told reporters she wore silk panties while paying her ten-day day debt to society. She went on to write several additional plays–including the acclaimed "Diamond Lil"–as well as an autobiography entitled "Goodness Had Nothing to Do With It."
One of my favorite factoids about Mae West is that she was short, measuring in at just five feet tall. She was such a giant presence most would never guess she was so small in stature. She also achieved most of her fame in her thirties and beyond. We have a special throne of honor for Mae up here in the middle-aged cheap seats.
Her infamous quips were Mae's calling card. Here are a just a few of my favorites:
A man can be short and dumpy and getting bald but if he has fire, women will like him. 
The precursor to I Was In Love With a Short Man Once.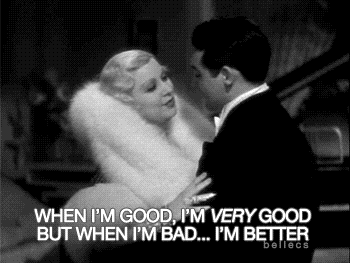 http://rebloggy.com/post/gif-film-quote-black-and-white-vintage-classic-women-lady-good-hollywood-bad-bet/71965497030
Too much of a good thing can be wonderful.
https://www.pinterest.com/cherokeebillie/mae-west/
Who is your favorite female role model? Have a famous quote to share?
Cheers,
Kimba